General Information
We hope to see you back in Atlanta! View Meeting Brochure by clicking image below!
Join us for the 2021 AFOS Annual Meeting at SECO April 26-27
The AFOS SECO meeting is an all inclusive package for AFOS members and Federal Service Optometrists from April 26 to May 2nd in Atlanta, GA.

Those registered for SECO through this AFOS program, attend the AFOS meeting on the afternoon/evening of Monday, April 26th and all day Tuesday, April 27th at the Ritz Carlton (AFOS headquarter hotel), and continue with the remainder of the SECO program (SECO program valued at $725) from Wednesday, April 28 through Sunday, May 2.

This is 60+ hours of CE available to you for more than a 25% discount!!
Please note that we are working closely with SECO and the Ritz Carlton to ensure all health and safety precautions are in place, as well as upholding all nationally recommended precautions, including mandatory mask-wearing and social distancing.
AFOS Meeting includes:
11+ Hours of excellent COPE approved CE including Service Chiefs' Breakout Sessions

AFOS 2021 Business Meeting

Newest technology and innovations in the AFOS Exhibit Hall

Service Camaraderie

Fantastic city and fun event!

Plus, receive incredible savings on the combined AFOS/SECO program!!

Your registration also includes membership to SECO University. A premier online CE platform valued at $295.


----------------------------------------------------------------------------------------------------
Registration Rates for AFOS and SECO Bundled Package
Early Bird Rate - Now until March 16, 2021

$539 AFOS Members in good standing*

$739 Federal Service OD Non-member rate

Late or Onsite Rate - March 17 to April 27, 2021

$639 AFOS Members in good standing*

$839 Federal Service OD Non-member rate

Current Residents

$25 Current AFOS Resident Members in good standing*

$75 Non-member rate

Students

$20 Current Student Members in good standing*

$50 Non-member rate

Non OD/Guest for Luncheon & Reception

$100

AFOS Meeting Only

$175 AFOS Members in good standing* ~ Early Bird Rate

$225 AFOS Members in good standing* ~ Late or Onsite Rate

$350 Federal Service OD Non-member rate ~ Early Bird Rate

$400 Federal Service OD Non-member rate ~ Late or Onsite Rate
---
---
Register to attend the B&L Zenlens Specialty Lens Fitting course on Mon, April 26th at 3:30pm

Buddy Russell, COMT, FCLSA, FSLS
Bio:
After a long and distinguished career at Emory University, Buddy left academia to accept a position at Thomas Eye Group in Atlanta. He has been certified by J.C.A.H.P.O. since 1986 and is a Certified Ophthalmic Medical Technologist. Buddy is a Fellow member of the Scleral Lens Society and the Contact Lens Society of America. He lectures frequently at national and international meetings on contact lens related topics. Buddy has written articles for various publications, two chapters for CLSA's advanced training manual and is a peer reviewer for the Cornea and the Eye and Contact Lens journals and also serves on the editorial board for the Contact Lens Science and Research publication. Buddy is a member of the GPLI advisory board and on the board of directors for CLSA. He is also a contributing editor for CLSA's Eyewitness journal. Buddy served as the National Contact Lens coordinator for the NIH Infant Aphakia Treatment Study. His most recent accomplishments include being awarded with the Joseph Soper Award for excellence in education, CLSA member of the year and co-authoring a chapter on managing refractive errors in children in Taylor and Hoyt's Pediatric Ophthalmology and Strabismus textbook.
-------------------------------------------------------------------------------------------------
~Room block closes Friday, April 9th~
Join us at the fabulous Ritz Carlton Atlanta. A five star hotel at a fantastic rate! Government rate room block information will be sent in your registration confirmation email.
The Ritz is committed to providing you with a safe environment that aligns with expert protocols for working to defeat COVID-19. Consisting of in-house and outside experts in food and water safety, hygiene and infection prevention, and hotel operations, the Marriott Cleanliness Council is redefining our cleaning and safety standards.
For hotel information, reach out to Dr. Wright.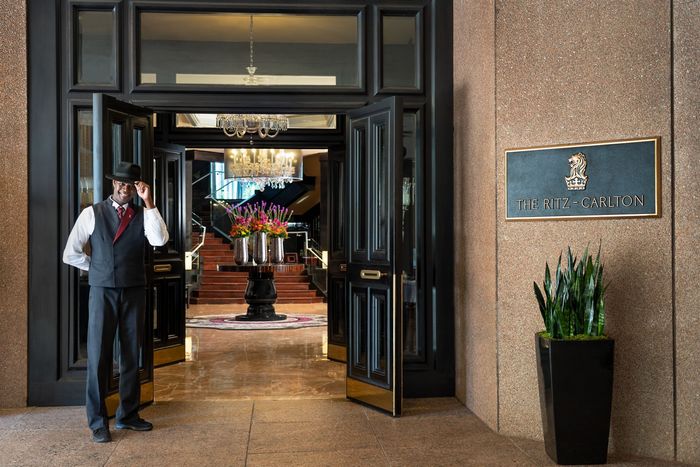 Event Speakers
Dr. Brett King, OD, FAAO

Dr. King received his doctor of optometry degree from Indiana University and then strengthened his medical experience by completing an optometric fellowship with Hunkeler Eye Centers in Kansas City. He returned to Indiana University as chief of the advanced ocular care service to provide consultative and medical care at the School of Optometry. In addition to his clinic he is actively involved in research conducting over 40 clinical trials and now focuses on translational research. Specifically he investigates advanced imaging techniques in the study of glaucoma progression and retinal atrophy.

Dr. Blair Lonsberry, OD, FAAO

Dr. Lonsberry grew up in Rossburn, Manitoba (Canada). He obtained his Optometry degree from the University of Waterloo in 1996 after completing a Master of Science in Physiology from the University of Manitoba. He completed his residency in Primary Care Optometry from the Illinois College of Optometry in 1997, then joined the faculty at Southern College of Optometry in Memphis, TN. During his time at SCO, he completed a Masters in Education degree with an emphasis in adult learning.

Currently, Dr. Lonsberry is a Full Professor with Pacific University College of Optometry in Oregon.

Dr. Lonsberry is a Diplomate of the American Board of Optometry, a Fellow of the American Academy of Optometry, the Optometric Retinal Society, the Optometric Glaucoma Society, and the Ocular Surface Society of Optometry.

Dr. Sean Dempsey, OD, FAAO

Dr. Sean Dempsey lives in Sartell, Minnesota with his wife, Kayleen, and their puppy, Philly. He is a staff optometrist at the St. Cloud VA Health Care System, where he is also adjunct faculty for optometry externs and helps train family practice medical residents. Sean is an outgoing committee co-chair for the AFOS Education Committee and is excited to move on to a board position for AFOS. His professional interests include ocular immunology and retinal/neuro-ophthalmic vascular disease. In his personal time, he enjoys adventuring and traveling with his wife and playing the occasional round of golf.