Complete Story

09/28/2023
Remembering LTC Robert Gmelin, O.D., USA, Retired
In Memorium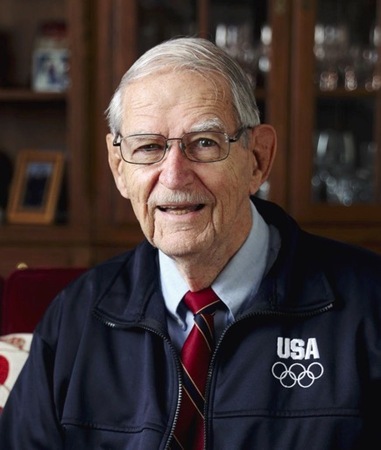 We are very sad to report the passing of AFOS and AOA Life member, Dr. Robert Gmelin, on September 20, 2023. Dr. Gmelin was a dedicated and proud member since AFOS' inception in 1970.
Robert T Gmelin was born to NYPD officer Robert H Gmelin and NY Times stenographer Agnes Brosnan Gmelin in New York City on November 6, 1936. He graduated from St Joseph's Elementary, Astoria, NY (1950), Xavier Military Academy, NYC (1954) and Fordham University, Bronx, NY (1958). Upon graduation, he was commissioned through the Army ROTC as 2nd Lt. Military Police and assigned to Fort Gordon, GA with the 77th Combat Aviation Brigade and then 77th Infantry Division in NYC where he co-piloted a Cessna L-19 Bird Dog flying out of Fort Drum, NY. In civilian status, he worked for Liberty Mutual Insurance as an automobile claims adjuster for several years in NYC.

Desirous of a more professional career, Bob left for California and several years later graduated from the Los Angeles College of Optometry in 1966. After eight years in the Army Reserves he was eligible for an honorable discharge, but still a soldier at heart he applied for an appointment to the Army Medical Department. With Vietnam waging and the need for doctors, he was quickly welcomed. In October, 1966 Bob received his orders and was assigned as 1st Lt. Army Medical Service Corps to the US Military Academy at West Point, NY. It would be a busy post with over four thousand Cadets of whom more than two-thirds wore glasses or contact lenses plus other patients including faculty, dependents, retirees and visitors. Only two months passed when the Doctor's Draft kicked in and Bob was promoted to Captain.

The three year assignment at West Point passed quickly in the academic environment interspersed with wonderful sports seasons. During this period Bob was awarded a Fellowship in the American Academy of Optometry in 1969 and added an MA from Fordham University in 1970.

Bob's next three year tour was at the US Army Hospital in Nürnberg, Germany. It was another busy clinic, but with lots of free weekend time and help from the USO he visited 24 European and Far East nations. Upon returning to the States he was promoted to Major and assigned again to West Point where he met his love, Sally Sarnowski, a 12 year elementary Art Teacher at the dependent school. They were married at the West Point Cadet Chapel in August, 1978 and for their honeymoon received orders to a 25 bed US Army hospital in Tehran, Iran. With the Shah's imminent departure they quickly came under martial law. Three months later Khomeini arrived, both the Army hospital and US Embassy were captured and the newlyweds were evacuated back to the States.

A dream assignment to the US Army Hospital in Heidelberg, Germany was next where Bob became Chief Optometrist, Optometry Consultant to the US Surgeon General and promoted to Lt. Colonel. Two sons, Mark and Michael, were both born in Heidelberg. After four wunderbar years, Bob was assigned to Letterman Army Hospital at the Presidio of San Francisco, as Chief of Optometry at the large teaching clinic and appointed Assistant Professor at the UC Berkeley School of Optometry. Three years followed and he retired from the Army in 1986, receiving the Legion of Merit decoration in ceremony.

With a wife and sons still to support, Bob moved the family to Sonoma, CA and began work as a GS-12 civilian Industrial Optometrist examining and caring for the eye safety of the workers at Mare Island Naval Shipyard in Vallejo. When Mare Island was closed in 1996, he began a long commute to McClellan Air Force Base in Sacramento to work as an Occupational Optometrist and when McClellan was also closed he retired from Civil Service in September 2002.

Bob was a member of the Sonoma Historical Society, volunteer docent at the Depot Museum for 15 years and enjoyed all that Sonoma had to offer. After a long and valiant battle with leukemia, he passed peacefully at home on September 20th, 2023. Bob is survived by his loving wife Sally, sons Mark and Michael, daughter-in-law Megan, and grandsons Myles and Maxwell. The family would like to express the deepest gratitude to the wonderful staff at Sonoma Valley Hospital where Bob was a frequent flier for his many transfusions and the Martin O'Neil Cancer Center at Adventist Health St. Helena.
---