Complete Story

05/05/2021
AFOS Tuesday Talk
Tuesday, May 18th at 7:30pm ET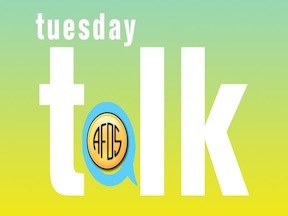 AFOS Presents: Tuesday Talk ~ May 18th at 7:30pm ET
Luneau Technology presents: "

Reimagine Eye Care:

Rethin

k the refraction process to streamline your workflow
"

Are you a clinician looking for improved efficiency in your patient workflow? Utilizing the latest suite of technologies in your practice empowers your technicians while allowing for high quality consultation time with your patients.

For the first time with AFOS, we bring you a live virtual demonstration and panel discussion featuring the second-generation Visionix® Eye Refract by Luneau Technology. Clinical Application Specialist Melissa Renfrow moderates a panel discussion with veterans who offer deep insight into this technology: Practice owner Dr. Gregory O'Connor, Clinical Application Specialist James Walker and Tier 3 Client Support Engineer Lance Brown.

This webinar presents how quickly and accurately the Eye Refract can provide refraction data and discuss how combining emerging technology can be a driving force to improve and simplify practice workflow. This webinar also explores how multi-modal Visionix® solutions allow you to empower your technicians with additional responsibilities and tools to create improved efficiency that simplify your patient workflow both in clinic and by tele-practice.

Attendees of this course will explore:
How to implement the latest technologies to create improved practice efficiency

How

Visionix

solutions simplify the patient workflow in clinic and remotely

How to empower your technicians and delegate data collection

See a live demonstration of the

Visionix

Eye Refract
This webinar is ideal for clinicians who are looking to improve practice efficiency, empower staff, delegate data collection and simplify the patient workflow.
About the featured technology:   
Integrated Visionix technologies are forward-thinking to help practices transform and scale the patient experience. The remote-ready technology is ideal for cold starts and high-volume, multi-location clinics, or a telehealth set-up.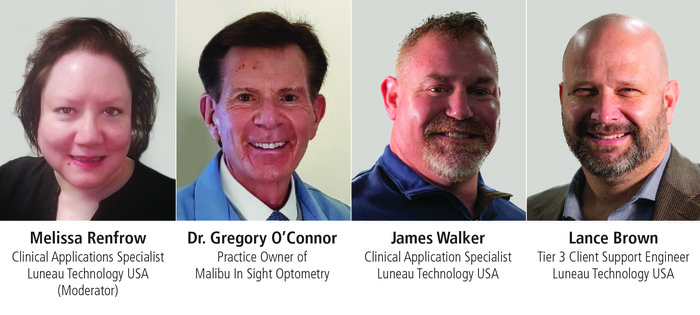 Dr Gregory O'Connor ~ has over 35+ years of experience. He co-manages refractive surgery patients and is a firm believer that his patients deserve the best technology. O'Connor is the recipient of the Malibu Businessperson of the Year, has served as President of the Malibu Chamber of Commerce and an active member of AOA, the California Optometric Association, and the Los Angeles County Optometric Society. https://malibuinsight.com/#about
James Walker ~ brings over 20 years of experience in ophthalmology and has extensive involvement assisting in refractive and surgical procedures. He began his career in the United States Navy based in Portsmouth, Virginia. There he led, trained and co-ordinated a team of 46 corpsmen serving as surgical specialists, clinical technicians, and equipment managers. After leaving the Navy, he joined Texas Regional Eye Center as an Ophthalmic Technician. Before joining Luneau Technology, as Clinical Manager at the Ennen Eye Center in Fort Smith, Arkansas, he implemented a new business model for dry eye patients via Lipiscan, Lipiflow and Tear lab technology which increased the Center's revenues.

Lance Brown ~ has 20 years' experience in high technology medical devices and software integration and served four years with the United States Air Force. Before joining Luneau Technology, he was Director of the Software Integration Group (SIG) at Natus/Otometrics North America. He joined Otometrics in 2011 and helped build a distribution company, Audiology Systems. He constructed the infrastructure for SIG to allow audiologists to connect their equipment to local and wide area networks and to their electronic medical record systems.
---
Dr. Sean Dempsey will present 1 hour of COPE approved CE titled "Concerning COVID-19: A Review of Ocular, Vascular, and Neurologic Risks"
This course will review both the common and uncommon ocular, vascular, and neurologic findings in COVID-19. Special attention will be paid to thrombosis and stroke risk, with focus on recognition and prevention.
---