Complete Story

12/04/2020
AFOS presents 50th Anniversary Resolution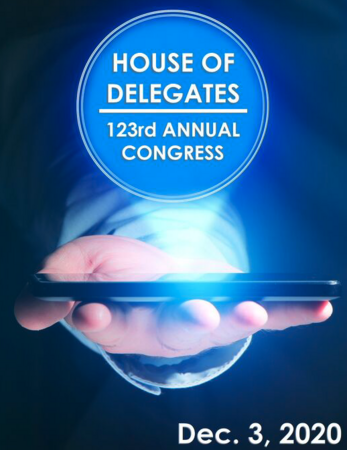 The American Optometric Association virtually held its 123rd Annual Congress of the House of Delegates on Thursday, December 3, 2020.
President, Dr. Chris Cordes, served as a member of the Credentialing Committee. President-elect, Dr. Emily Sprague, proudly represented AFOS as she presented a Resolution recognizing AFOS' 50th Anniversary!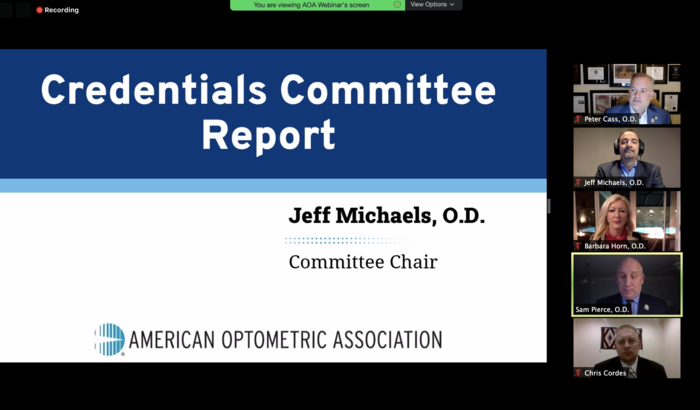 Recognizing the 50th Anniversary of the founding of the Armed Forces Optometric Society.

Whereas, during the year 2020, the Armed Forces Optometric Society (AFOS) is celebrating 50 years since its formation.
Whereas, founded on July 1, 1970, AFOS held its inaugural meeting in Honolulu, Hawaii with thirty-four military optometrists in attendance.
Whereas AFOS is honored to be the AOA Affiliate for federal services optometrists.
Whereas AFOS proudly serves over 950 member doctors, including those serving or retired from the United States Military (Air Force, Army, and Navy) and their Reserve components, Veterans Administration, Public Health Service and Indian Health Service, and various other governmental entities.
Whereas the purposes of AFOS are to advance, improve, and enhance the eye care provided to designated federal services' health care beneficiaries by optometrists in federal service; to provide a forum for these optometrists; to improve the art and science of the practice of optometry and to elevate the standards of the practice.
Whereas AFOS' mission is to promote, protect, and advance Federal Service Optometry, to deliver unparalleled eye and vision care to their beneficiaries. AFOS works tirelessly for military troops and their families, the Native American Population, and Veterans.
Whereas, during this anniversary year, AFOS recognizes its founders and charter members, the dedication and commitment of its members to serve their country, those currently serving and those that have served in the US military, and the leaders and volunteers that served the society over the past 50 years.
Resolved, that the American Optometric Association House of Delegates, hereby recognizes and commends the Armed Forces Optometric Society on its 50th Anniversary; and be it
Resolved further, that AFOS recognizes and extends appreciation to the vision and foresight of the initial founding leaders, the support of the fellow AOA affiliates, dedication of the AOA and the continual support of federal service optometrists.
---